Updated: October 6, 2023
What Are the Best Jobs I Can Get with a Cyber Security Degree?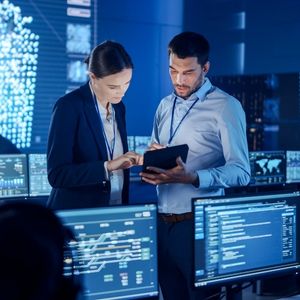 If you're interested in studying cyber security, you may find yourself wondering, "What are the best jobs I can get with a cyber security degree?" With data breaches and hacking on the rise and a shift into more advanced technology, cyber security has become a high-demand career. Professionals are needed in all industries to develop innovative solutions to protect critical information from hackers, and to prevent cyber attacks and computer network problems.
A Bachelor of Business Administration in Cyber Security will provide you with the business and technical skills to comprehend the dynamic relationship between cyber security and an organization's greater goals. After graduation, you will be prepared for active involvement in building and sustaining the future of any organization, working in technical positions, influencing business processes, and leading technical teams.
Career Opportunities for Cyber Security Graduates
A degree in Cyber Security will give you the skills to pursue careers such as:
Cyber Security and Information Security Analyst
Median Salary: $103,590 per year
Chief Risk Officer
Median Salary: $265,200 per year
Computer Network Architect
Median Salary: $116,780 per year
Information Systems Manager
Median Salary: $151,150 per year
Network Security Administrator
Median Salary: $84,810 per year
Operations Research Analyst
Median Salary: $86,200 per year
Quality Assurance Analyst
Median Salary: $110,140 per year
Software Developer
Median Salary: $110,140 per year
According to the U.S. Bureau of Labor Statistics, employment for Cyber Security graduates is projected to grow 32%, with an average of 16,800 job openings projected each year between 2022 and 2032.
---
Interested in UTSA Online?
If you are interested in of our 100% online Cyber Security program, you can contact our enrollment team, email us at onlineenrollment@utsa.edu or give us a call at 210-458-4000.