UTSA is dedicated to helping students achieve their educational goals. Our students have numerous payment options and financial aid opportunities. Review all the financial aid and payment options available to UTSA Online students below.
Financial Aid
UTSA Online students are encouraged to apply for financial aid through the FAFSA and will be considered for federal and state need-based financial aid such as Federal Pell Grant, Federal Direct Student Loans, and TEXAS Grant.
Applying for Aid
Follow these steps to apply for Financial Aid at UTSA:
Complete your FAFSA (Free Application for Federal Student Aid) and submit your application to UTSA by using UTSA's school code 010115.
For new students, apply to UTSA Online. You will need to be admitted or enrolled before you can be offered any financial aid.
Check your financial aid status on our student portal ASAP and monitor your UTSA email account for up-to-date information.
Repeat these steps every year.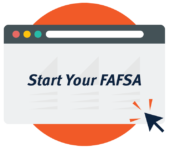 Submit your FAFSA
You may qualify for financial aid, including grants, loans, and scholarships. For eligibility, you must complete the Free Application for Federal Student Aid (FAFSA) every year.
The FAFSA application opens October 1 of each aid year. UTSA's Federal School Code is 010115.
Financial Aid Priority Application Deadlines:
Fall – Jan. 15
Spring – Nov. 1
Summer – Mar. 15
Accepting your Aid
Once you have been offered financial aid or scholarships, you may go and review your aid on your ASAP account. Please note some financial aid will require additional steps after you accept them. These requirements and further instructions will be posted on your ASAP account and must be completed before your aid can disburse to your bill.
Accepting your Aid
Receiving Your Aid
If you have been awarded financial aid, your aid will automatically be applied to your account 10 days prior to the start of classes. However, for your aid to disburse, you'll need to ensure that you complete all of your outstanding requirements, which may include:
Accepting your Aid
Completing Verification requirements
Submitting applicable forms
Receiving Your Aid Money
---
Payment Options
Students may pay their bills out-of-pocket via credit card or check through RowdyPay, which can be found on your ASAP student portal. RowdyPay offers an easier, faster way to make online payments, set up authorized users to make payments, store online payment profiles, access real­ time account balances and account activity, and schedule payments in advance.
Payments must be received by 5:00 p.m. local time on the payment deadline listed on the Fiscal Service's website, unless otherwise noted.
Payment Deadlines