UTSA is an Adobe Creative Campus: What Does That Mean?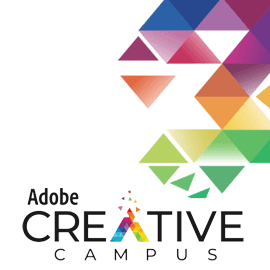 Being an Adobe Creative Campus means that the university has full access to Adobe Creative Cloud, a suite of applications and services that give you access to industry standard software for graphic design, video editing, web development, photography, and more. UTSA became an Adobe Creative Campus in October 2019, and since then, our students, faculty, and staff have had free access to all the Adobe Creative Cloud.
Yes, you are reading that correctly! As long as you are registered for classes and have a valid UTSA ID, you can download and install software applications including Photoshop, InDesign, Illustrator, Premiere Pro, Acrobat, and more. The campus-wide license allows you to have full access to those applications on any computer and it also gives you the ability to save your work to the cloud whenever you sign in with your UTSA ID.
What this means is that whether you are using your own computer or somebody else's, as long as the Adobe software is downloaded on that computer, you will be able to log in and open any of the projects you have saved on the cloud. You can make changes to your projects, save them, and then continue working on them on a different computer whenever you login with your UTSA ID. That's an easy way for you to always have access to your projects and to the largest library of creative tutorials for every single Adobe software program when you're in need of inspiration.
What This Means for Students
There are many perks that come with being a Roadrunner. One of them is that as a student at UTSA, you have free access to some of the best creative tools in the world. Even if you aren't familiar with the Adobe Creative Cloud, you can learn how to use the applications for desktop and mobile, and find some inspiration with the Adobe library of tutorials just for students!
This is a great opportunity for you to learn about some of the most popular software applications used by creatives today, while exploring your passions and getting some experience using industry-standard tools. As a UTSA student with full access to the Adobe Creative Cloud, you can:
Learn more persuasive and visual communication skills
Gain visual, audio, and storytelling skills that will help expand your employment opportunities
Engage more intensely in your learning, as you will be able to create projects that reflect everything you learn in class
What This Means for Faculty
As faculty and staff at UTSA, you have full access to all the creative tools mentioned above, which will ensure that your projects and courses become more inspiring and interactive. The benefits of having free access to Adobe Creative Cloud as UTSA faculty include:
The ability to prepare students for careers in fields that require strong digital literacy and production skills
Access to research and development opportunities with Adobe
Integration of creativity into the curriculum through resources and support from Adobe tutorials
Adobe Creative Cloud opens up a whole new world of creativity and inspiration for students, faculty, and staff by creating a collaborative environment that improves everyone's visual and persuasive communication skills. Furthermore, Adobe provides resources for faculty such as project samples and tutorials on how to drive digital literacy and how to teach and assess creative skills in class.
Want to learn more about Adobe but don't know where to start?
UTSA's Adobe specialist, Willie Schaefer, can introduce resources and teaching techniques to enhance digital literacy to faculty and their students. Faculty can book sessions that are customized to their needs from 15-minute overviews to 45-minute workshops that cover more in-depth exploration of an application, a tool, or a concept.
Still deciding if you want to become a Roadrunner?
If you are still considering if UTSA Online is the right choice for you, you can explore our undergraduate, graduate and certificate programs, and find more information here. We are here to guide you through the enrollment process and to support you through your entire journey as a Roadrunner. Our Enrollment team is available to answer any questions you may have, so don't hesitate to give us a call at 210-458-4000 or email us at onlineenrollment@utsa.edu.
Your free access to the Adobe Creative Cloud begins the moment you become a Roadrunner. If you are interested in learning more about how to obtain Adobe Creative Cloud in your computer, you can visit the UTSA Digital Learning website to find more information.
Besides the benefits and tips we have shared with our Online students in the past, being an Adobe Creative Campus is one of the many advantages that come with being part of the Roadrunner community, and we don't want you to ever miss out on any of them! For that reason, we will continue sharing more benefits and useful information with you on the UTSA Online blog, so stay tuned!