Ready to Start Your BOLD Future?
Make sure to review the requirements below before applying as a freshman to UTSA Online.
Once you are ready have all the documents you need, you can follow the steps at the How To Apply page.
Guaranteed Admissions
| HS Class Rank | Old SAT* | New SAT* | ACT |
| --- | --- | --- | --- |
| Top 25% | no minimum | no minimum | no minimum |
| Second 25% | 1100 SAT | 1170 SAT | 24 ACT |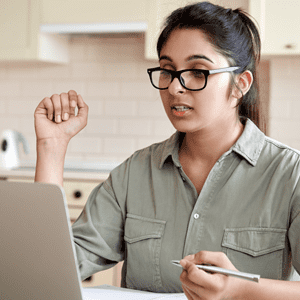 Admission by Committee Review
HS Class Rank
Old SAT*
New SAT*
ACT
Second 25%
≥ 900 SAT
≥ 980 SAT
≥ 19 ACT
Third 25%
≥ 1000 SAT
≥ 1080 SAT
≥ 21 ACT
Fourth 25%
≥ 1100 SAT
≥ 1170 SAT
≥ 24 ACT
Home school or GED Students
There is no minimum SAT/ACT score, but scores must be submitted from the testing agency.
Old SAT (SAT taken prior to March 2016) combines Math + Critical Reading
New SAT (SAT taken March 2016 and after) combines Math + Evidence-Based Reading & Writing
Self-Reported Academic Record: The Self-Reported Academic Record (SRAR) is a tool that allows applicants to self-report their courses, grades, class rank, and other academic information. UTSA requires first-time freshman applicants to submit a Self-Reported Academic Record (SRAR) instead of an official sixth-semester high school transcript.
Class Rank: High school class ranking is required for graduates of accredited public or private high schools. For applicants whose high school transcript does not present a rank, the Office of Undergraduate Admissions will assign a rank.
Test Scores: Test scores are not required, but are considered if submitted. SAT or ACT scores must be submitted directly from the testing agency. UTSA's code for ACT is 4239. UTSA's code for the SAT is 6919.
Fee Waivers: Eligible first-time freshmen applicants who demonstrate financial need can submit an application fee waiver to cover the application fee.
Committee Review: Meeting the stated scores for Committee Review does not guarantee admission. If you are to be considered for admission through committee review, submission of essay A and two letters of recommendation are highly suggested.
Dual Credit: If you've received dual college credits, please submit official college transcripts (not required for a decision).
Military Credit: If you've received military credits, please submit your Joint Service Transcript.
International students who hold or are seeking a student visa (F-1) are not eligible for 100% online classes. Find more information about the requirements for international students here.
If your plan is to stay in your home country, you can apply to UTSA Online by following the instructions on this page. You can also contact our team at onlineenrollment@utsa.edu if you have any questions.
Appeal for Undergraduate Admission
Applicants for admission and admitted students have the right to appeal decisions of the Undergraduate Admissions Office. Students requesting an appeal must submit the Appeal for Undergraduate Admission form and any other requested documents as outlined on the form (available here).
The appeal must be received by the appeal deadline for the term of the application. Deadlines that fall on a weekend or UTSA holiday will be extended until 5:00 p.m. the following business day.
Appeal Deadlines
Fall Semester: August 1
Spring Semester: December 15
Summer Semester: May 15