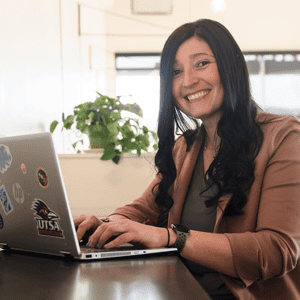 Cyber security is a constantly expanding field of innovation, and protecting integral systems is vital. As technology becomes more embedded into our society, the need for experts in the field continues to grow, making a degree in Cyber Security more valuable than ever.
With the job field as competitive as it is, you want to be sure you choose the best online Cyber Security degree program so you can develop the necessary skills in a way that best fits your lifestyle and budget. Whether you're going after your degree for the first time or hoping to pivot in your career, an online program is a great way to learn what you need to succeed in the field while enjoying the flexibility to fit your lifestyle.
This guide will give you insight into how our program compares to other schools, and provide important information about coursework that will help you make the best decision for you.
How Does UTSA Online Compare to Other Texas Programs?
There are several universities throughout Texas that offer programs in Cyber Security, but only a few have programming online. Of those programs, many are focused on the sciences, rather than on business.
At UTSA Online, you'll earn a Bachelor of Business Administration in Cyber Security instead of a Bachelor of Science in Cyber Security. A B.B.A. in Cyber Security offers a unique advantage over a traditional B.S in Cyber Security because it integrates both business and technical expertise. Combining the core principles of business administration with specialized cyber security knowledge, a B.B.A. in Cyber Security provides graduates with a diverse skill set that extends beyond technical proficiency.
As you compare each, consider the different levels of coursework, degree programs, and costs. The following schools offer online Cyber Security degree programs in Texas:
Angelo State University

B.S. in Cyber Security | Required: 120 credit hours | Cost: $530 per credit hour

Hallmark University

B.S. in Cyber Security | Required: 120 credit hours | Cost: $530 per credit hour

Our Lady of the Lake University

Cyber Security Graduate Certificate | Required: 15 credit hours | Cost: $981 per credit hour

Sam Houston State University

B.S. in Cyber Security | Required: 121 credit hours | Cost: $790 per credit hour

University of the Incarnate Word

B.S. in Cyber Security | Required: 122 credit hours | Cost: $550 per credit hour

The University of Texas at San Antonio

B.B.A. in Cyber Security | Required: 120 credit hours | Cost: $525 per credit hour
Other universities in Texas may offer courses in Cyber Security, Cyber Security boot camps, or CompTIA exam preparation, but only a few offer full degree programs or certificates in the field. As you search through the above programs, consider which ones will offer you the most value for your time.
Finding the Best Cyber Security Program in Texas
Choosing the best Cyber Security program in Texas means selecting a program that fits your lifestyle while setting you up for success in the field. But don't forget to also consider the reputation of the schools you are researching.
The U.S. News and World Report provides rankings based on the quality of a program. They examine what makes the curriculum, faculty, and support services best for overall student success. UTSA ranks in the top 25% for Best Online Programs in the Nation, so you know you'll get a quality education.
When you pursue a Cyber Security degree at UTSA Online, you receive a great jumpstart for your career. From our 100% online program's flexibility to the quality of our instruction, you enjoy multiple benefits and resources.
Accredited and Nationally Recognized
UTSA Online is a nationally recognized and accredited institution, giving you a high-quality education from the comfort of your own home. UTSA has been designated as a Center for Academic Excellence (CAE) by the National Security Agency and the Department of Homeland Security in the areas of CAE-Education, CAE-Operations and CAE-Research. UTSA is one of only 10 institutions in the nation to achieve all three designations.
Our online Bachelor of Business Administration in Cyber Security program offers a comprehensive, rigorous course list of 120 credit hours that equips you with the skills you need to succeed in cyber security and build a lasting career. Depending on your career path preference, you can also add a minor in Digital Forensics.
Courses for our Cyber Security program include:
Unlocking Cyber
Programming Languages I with Scripting
Database Management for Information Systems
Operating Systems Security
Introduction to Telecommunications for Business
Network Security
Information Assurance and Security
Intrusion Detection and Incident Response
All of our online courses are taught by full-time UTSA faculty, so you get the same quality instruction as our in-person students. Because UTSA Online is an accredited institution, this degree offers the same value as a degree from in-person programs and will allow you to seamlessly pursue further education or a career in the cyber security field.
Flexible Scheduling
Our online programs are designed to accommodate a range of lifestyles. Whether you have family commitments, work full time, or simply can't attend in-person classes, our online degree program will give you the opportunity to obtain your education in a way that works for you.
Our courses are asynchronous, meaning that they do not have designated meeting times. This method allows you to complete coursework on your terms. Altogether, we make it easy for you to build your education around your current schedule.
One Tuition Rate
Regardless of whether you are in-state or out-of-state, all of our 100% online students pay the same tuition rate. Our undergraduate tuition for Cyber Security is a flat $525 per credit hour. Even better, this tuition rate is all inclusive – there are no additional fees and no unnecessary surprises.
Prospective students also have the opportunity to pursue financial aid, grants, loans, and payment options. Depending on your eligibility status, financial aid can help decrease the cost of classes and make pursuing Cyber Security more accessible.
Altogether, earning a degree in Cyber Security offers a ton of potential for your career path and professional growth. You can learn more about UTSA Online's Cyber Security program here. If you have any questions about our programs, don't hesitate to contact us.
---
Interested in UTSA Online's Cyber Security Program?
If you are ready to start your path to a Cyber Security career and begin the enrollment process, contact UTSA Online's Enrollment Team at 210-458-4000 or onlineenrollment@utsa.edu.
If a credit-earning 100% online program is not the right fit for your needs, UTSA Professional and Continuing Education (PaCE) has additional not-for-credit programs, courses and Boot Camps available to professional learners. Consider UTSA's Cyber Security Boot Camp. Learn through immersive instruction and lab environments in this part-time, 24-week virtual program.
Learn More About UTSA Online's Cyber Security Program