Updated: October 6, 2023
What Are Some of the Best Jobs I Can Get with a Communication Degree?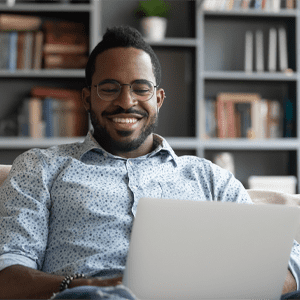 Are you planning to pursue a degree in Communication? Then you've landed at the right place! UTSA Online's Communication program will prepare you with the full set of skills you will need to become a competitive candidate in multiple career paths.
Through UTSA's online program, you will develop and sharpen your verbal, nonverbal, and written communication skill-set along with your critical thinking and problem-solving skills. For instance, every course will be an opportunity to apply and improve your writing, editing, research, and presentation talents while learning how to deliver information effectively and efficiently to diverse audiences through a variety of platforms.
Communication Job Outlook
According to the Bureau of Labor Statistics, employment opportunities in communication occupations are projected to increase each year, with an average of 114,300 new openings per year.
Another important matter to consider when looking for a job is the median annual wage. In May 2022, the median annual wage for Communication workers was $66,240, which was significantly higher than the median annual wage of $46,310 for all occupations.
Job Opportunities for Communication Graduates
The versatility of your communication skills will allow you to seek a career in many industries, and it will ensure that you remain highly valued by their employers. Some of the industries that posted the most communication-related positions in recent years include: higher education, advertising and public relations, management and technical consulting, general hospitals, and insurance carriers.
Job opportunities for Communication graduates include:
Broadcast, Sound, and Video Technicians
Broadcast, sound, and video technicians set up, operate, and maintain the electrical equipment for media programs. The median salary for Broadcast, Sound, and Video Technicians was $53,960 in 2022.
Editor
Editors plan, review, proofread, and rewrite existing content to make it easier for readers from different types of media to understand the information. In addition, executive editors are generally the ones who decide which writer submissions will be published. The median salary for editors was $73,080 in 2022.
Film and Video Editors and Camera Operators
Film and video editors and camera operators shoot and record television programs, films, music videos, documentaries, or news and sporting events. They also typically organize digital footage with video-editing software. The median salary for film and video editors and camera operators was $62,420 in 2022.
Interpreters and Translators
Interpreters and translators decipher, simplify, and convert information from one language to another for a greater understanding between their clients. The median salary for interpreters and translators was $53,640 in 2022.
News Analysts, Reporters, and Journalists
News analysts, reporters, and journalists keep the audience updated about newsworthy information and events happening locally, nationally, and around the world. The median salary for news analysts, reporters, and journalists was $55,960 in 2022.
Public Relations Specialist
Public relations specialists are in charge of creating and sustaining a positive public image for the clients or businesses that they represent. The median salary for public relations specialists was $67,440 in 2022.
Technical Writer
Technical writers produce supporting materials to convey complex and technical information in a more reader-friendly format. Some examples of these materials include how-to guides and instruction manuals. The median salary for technical writers was $79,960 in 2022.
Writers and Authors
Authors and writers are responsible for creating written pieces of content for various types of media platforms. The median salary for authors and writers was $73,150 in 2022.
Source: Bureau of Labor Statistics – 2022.
The Communication Program
Does communication sound like the right field for you? Then it's time to consider UTSA Online's B.A. in Communication. Because it's a 100% online program, you'll be able to work at your own pace to keep your work, life, and education in balance to graduate from a top university.
Some of the courses included in the Communication program at UTSA Online include:
COM 3023. Foundations of Communication
COM 3073. Conduct of Communication Inquiry
COM 3083. Language and Communication Theory
COM 2113. Public Speaking
COM 3553. Intercultural Communication
COM 4813. Theory and Practice of Social Interaction
To finish the Communication program, you must complete 120 credit hours, including 42 core hours, 42 major hours, 6 language hours, and 30 elective hours.
Concentrations
UTSA Online also has two communication concentrations you can add to help you focus your career path even further. Consider adding a Digital Communication or a Public Relations concentration to your degree plan! The Public Relations concentration will be available beginning in Spring 2024.
Digital Communications Concentration
The Digital Communication concentration enables you to explore the industries of Digital Communication ranging from television and radio to computers and the Internet. With this concentration you will learn the processes of creating, producing, and distributing content in a variety of formats for digital platforms.
You'll study the principles of writing and producing for various audiences using technologies and methodologies of layout and graphic design, multimedia/video production, as well as theories and practices for strategic content creation for publishing digitally.
You'll take the following courses for this concentration:
COM 2433. Editing
COM 2733. Introduction to Digital Communication
COM 3623. Commercial Publications
COM 3723. Digital Media Production I
COM 4723. Digital Media Production II
Public Relations Concentration
You'll take the following courses with this concentration:
COM 3523. Public Relations
COM 3533. Writing for Public Relations
COM 3623. Commercial Publications
COM 4523. Case Studies in Public Relations
COM 4533. Public Relations Planning and Campaigns
---
Interested in UTSA Online?
If you are interested in of our 100% online Communication program, you can contact our enrollment team, email us at onlineenrollment@utsa.edu or give us a call at 210-458-4000.
Explore UTSA Online's Communication Program
Related topic: Communication Student Spotlight – Emma Rudkin '18