Updated: October 11, 2023
Felicia Carrola
B.A. In Multidisciplinary Studies – UTSA Online Class of 2022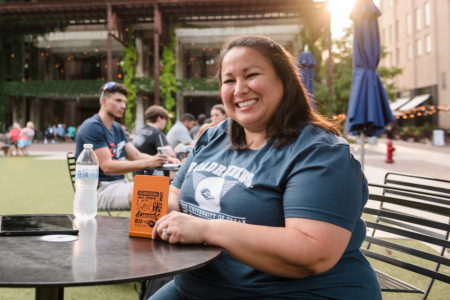 Felicia completed the Multidisciplinary Studies (General Studies) Program as a stay-at-home mom. She decided to go back to school after many years and finish her degree to expand her job opportunities and show her beloved daughter, Victoria, the importance of education. Felicia's husband, Daniel, graduated with his Bachelor's and Master's degrees from The University of Texas at San Antonio, although by taking classes in person. She chose UTSA Online because she wanted to continue that legacy of being a Roadrunner family, show her love for her hometown university, and gain the flexibility to balance her family and academic responsibilities.
Her UTSA Online Experience
When we asked Felicia about her experience in the online Multidisciplinary Studies Program at UTSA Online, she said: "The hardest part is just taking the first step, it's about getting the ball rolling and registering and taking the first steps to get you started."
Once she registered for classes, she realized that "teachers want you to be successful – they're helping you, giving you the tools you need to be successful. It's about showing up, being present, making yourself available, and being willing to participate. It's hard to fail unless you're not willing to do anything."
Felicia made sure her family had everything they needed while she was completing the Online Multidisciplinary Studies Program. She took advantage of the tools and services UTSA provided, applied hard work to her studies, and created a schedule that worked perfectly for her needs. It allowed her to complete her classes while never missing an important moment with Victoria. In fact, Felicia said that Victoria became her 'study buddy.' They would do homework together, or Victoria would play educational games on her tablet while Felicia was finishing up her homework.
Even as a UTSA Online student, Felicia continued showing her Roadrunner pride in person. You could find her, Daniel, and Victoria in the end zone or tailgating at the Alamodome. They actively participated in the UTSA community and have never missed a UTSA football home game. It was not only quality time together, but she felt she was setting an example for Victoria at the same time.
Building Relationships with UTSA Online Classmates
During our conversation with Felicia, she told us she made new friends within her classes even though they were 100% online. Initially, she felt nervous, especially because she knew she was not a traditional college-aged student anymore. But that feeling didn't last long.
She said, "I loved meeting all the different people that I did, we were all from different backgrounds. I was married with a kid, and then there were kids in sororities who lived with five roommates."
She said she was grateful to work and collaborate with so many different people. That's the beauty of 100% online programs! Most of our students who come back to complete their degree years later, like Felicia, end up thriving in the program because they have a set goal and can connect with a network of people at different stages of their personal and professional lives.
Walking the Stage at Graduation
Felicia crossed the stage to accept her diploma in December 2022 during the UTSA Fall Commencement – and experienced graduation with a friend she made in class. Although they worked together and encouraged each other often, they had never met face-to-face until they were seated next to each other on graduation day. Felicia said it made the day even more special.
"It was funny because we became friends without having ever met each other, but we're both stay-at-home moms with kids, and it was just the sweetest thing to be able to meet her in person, walk the stage with her, and experience graduation with her," Felicia said enthusiastically.
After graduation, Felicia and her family discussed her new opportunities and how their family would continue to balance their priorities. She used the updated resume she had developed in class, dusted off some of her old contacts, and went job hunting.
Ultimately, Felicia found a role at the San Antonio Northside Independent School District that was ideally suited to what she wanted. Her schedule is aligned with Victoria's school schedule and she is incredibly delighted knowing that finishing her degree with UTSA Online was the best decision for her and her family. You can watch Felicia's story below:
---
Interested in UTSA Online?
If you are interested in one of our 100% online programs, you can contact our enrollment team, email us at onlineenrollment@utsa.edu or give us a call at 210-458-4000.
Learn More About the Online Multidisciplinary Studies Program