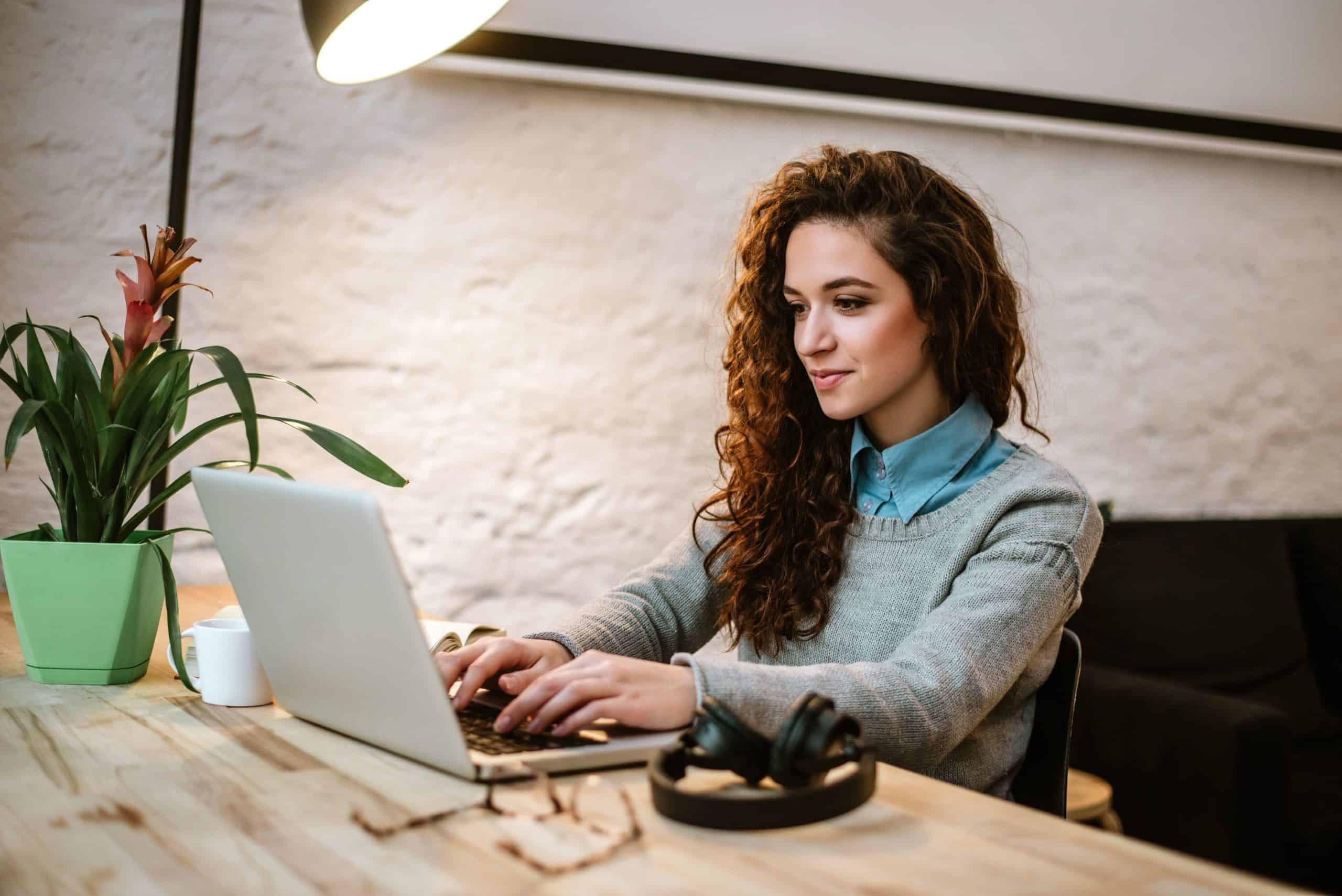 Online Bachelor of Arts Degree in General Studies
Our flexible multidisciplinary/general studies program allows you to pursue a degree that is customized to your diverse interests and talents while making the most of the college credits you've already earned.
Benefits of an Online Bachelor of Arts in Multidisciplinary/General Studies
Unparalleled Flexibility – The B.A. in Multidisciplinary Studies program was created to fit your busy lifestyle and to make it easier for you to obtain a degree with classes that work around your schedule.
Customizable Degree – This general studies program allows you to develop a degree plan tailored specifically to your academic and career goals.
Maximum Credit Transferability – We take into consideration your previously earned credit hours toward this degree.
Wide Range of Careers – This program will prepare you for a wide range of careers related to the areas of study that you engage in.
Career Advancement – Earning your degree online at UTSA will offer you opportunities to expand your network and professional horizons.
Careers in Multidisciplinary Studies
The Multidisciplinary Studies program is designed to encourage creativity, innovation, and critical thinking, while also preparing you with marketable skills that can help you successfully pursue and thrive in a wide range of careers.
Additionally, with this 100% online general studies degree you can:
Move up in an existing career by being better prepared for management and leadership roles
Strive to be promoted from an entry-level role with the new skills and experience acquired
Change industries to one of the wide range of careers with the diverse education and skills acquired
Pursue your graduate degree after receiving your B.A. in Multidisciplinary Studies.
Your Multidisciplinary Studies degree plan will include:
Core classes, including a senior seminar course that allows you to demonstrate the mastery of your subjects
Three focus areas of your choosing:

Focus Area 1: 15 credit hours
Focus Area 2: 12 credit hours
Focus Area 3: 12 credit hours

Elective credits to allow you to further tailor your degree to your interests

Electives: 27 credit hours

Foundation courses that will teach you helpful skills for any industry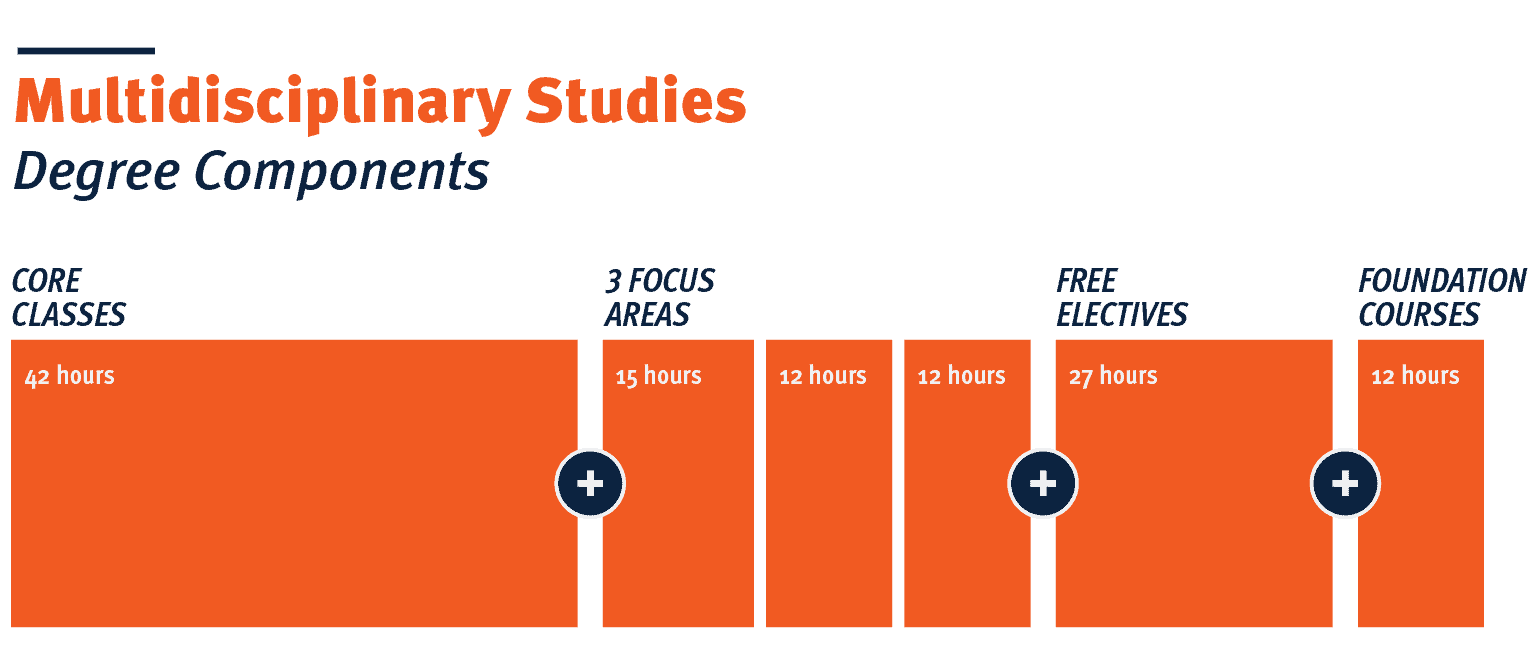 Focus Areas
The UTSA Online Multidisciplinary Studies program offers nine specializations. Click each focus area to review the list of courses included.
Frequently Asked Questions
Tuition for the B.A. in Multidisciplinary Studies is set at $486 per unit. Each class consists of three units.
You may qualify for financial aid, including grants, loans, and scholarships. For eligibility, you must complete the Free Application for Federal Student Aid (FAFSA) for the applicable aid year. UTSA's federal school code is 010115. You must complete a new application each year you are attending.
As a Military Friendly school, we offer many programs to support our students in the military, our veterans, and their families, while working closely with the UTSA Veterans Certification Office. Veterans and military families, please note that UTSA's Online B.A. in Multidisciplinary Studies is not eligible for the Hazelwood Act benefit.
Because the Multidisciplinary Studies degree focuses on developing a broad set of marketable skills, our graduates pursue a wide variety of careers. The most common industries our graduates enter include education, government, management, human resources, law enforcement, nonprofit management, and employment services. Many go on to pursue graduate degrees.
The online Multidisciplinary Studies program offers nine specializations:
Business – Course topics include accounting; economics, business law, information systems for management, and organization theory, behavior, and management.
Communication – Course topics include digital business communication, foundations of communication, language and communication theory, persuasion, and rhetorical communication analysis.
Data Science – Course topics include programming for data science, data visualization, data mining and machine learning, and statistics. Students who complete the Data Science focus area as part of a bachelor's degree will be eligible to also receive the undergraduate certificate in data science.
Digital Communication – Course topics include editing, introduction to digital communication, commercial publications, and digital media production.
Geography – Course topics include what links and differentiates cultures, political systems, economies, landscapes, and environments across the world, while using geographic technologies such as Geographic Information Systems (GIS), Remote Sensing, Global Positioning Systems (GPS), and online mapping.
Global Affairs and Political Science – Course topics include transnational crime, terrorism, trafficking, pandemics, global development, human rights and environmental issues such as global warming. This program aims to provide students with skills for a variety of careers in government jobs in international affairs or international law, international business, and military and intelligence.
Health – Course topics include community and public health, drugs and health, human nutrition, weight management, and program planning and evaluation.
Humanities – Course topics include history of ideas, history of cultures; introduction to humanities, and global humanities.
Sociology – Course topics include race and ethnic relations, social context of drug use, criminology, gender, and qualitative research methods.
The program also includes 27 credit hours of elective courses, providing plenty of opportunity to customize your degree to your interests and career objectives.
Time-to-completion will vary based upon the number of previously earned credits that are eligible for transfer. If taking the full 120 credit hours required, it can take four to five years, depending on course load. With transfer credit, the time to graduation may be significantly less—possibly one to two years.
A maximum of 66 credit hours of lower division (freshman and sophomore) transfer work from a community college will be allowed to apply to a bachelor's degree at UTSA. If you have exceeded the 66 hours of lower division work, the most applicable 66 credit hours will be applied to the degree you would like to earn. In order to earn a degree from UTSA, all students must successfully complete a minimum of 30 applicable credits at UTSA.
There is no maximum number of transferable hours from a four-year accredited institution. However, the applicability of the transfer coursework to the degree you would like to earn must be determined. Any coursework that does not correspond to courses offered by the university may transfer as elective credit.
All applicants to the Multidisciplinary Studies program are subject to the standard UTSA requirements.