Giovanni Serrato Graduates with First Class of UTSA Online Cyber Security Students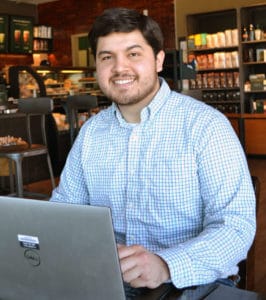 Cyber Security 
San Antonio, TX
Meet Giovanni Serrato. He will be walking the stage this May as part of the first graduating class of UTSA's nationally ranked online B.B.A. in Cyber Security program.
In certain ways, Serrato exemplifies the typical student attracted to this program, which launched in the fall of 2017 as UTSA's first fully online degree program. He is from San Antonio, he already had a full-time job, and he needed the flexibility an online degree program provides in order to advance in his career.
"What stands out about Giovanni is his tenacious drive and grit to graduate as soon as he can," shared Student Success Coach Kelly Pena. "He has shown the ability to stand strong and succeed while being pulled in many directions, all while remaining driven to do more."
Giovanni's interest in the cyber field started in high school, where he participated in the CyberPatriot National Youth Cyber Defense Competition on behalf of NISD's Business Careers High School. Upon graduating high school, he started an undergraduate degree in computer science at UT Austin but felt a lack of direction. After three semesters he left Austin, returned home to San Antonio, and took on various part-time tech positions until he landed an internship in threat vulnerability at Rackspace in May 2016. This solidified his desire to work in the cyber security field. After Rackspace, he won successive cyber internships at Frost Bank and Cisco.
Despite these incredible career-building opportunities, the fact that he never finished his degree lingered in the back of his mind.
In April 2018, he was offered his first full-time job as a cyber security analyst at PwC. Around that time, he heard about UTSA's fully online cyber security degree. He knew UTSA's strong reputation in cyber security and jumped at the chance to enroll.
"I was gaining momentum in my career and didn't want to have to put it on hold to attend school, so UTSA's online program was the perfect solution for me," said Giovanni, who now works as a staff consultant in the cyber threat management division of Ernst & Young. "The concept of doing the work on my own time was appealing both to me and my employer."
Giovanni and his classmates in the online cyber security program benefit from the same curriculum taught by the same expert faculty as students in the residential program.
"My experience in the program has been great," said Giovanni. "I have been pleasantly surprised by how easy it is to have exchanges with the professors. They respond quickly to our questions and many of them are still working in the field so they bring a lot of real world examples into the classroom."
In addition to advancing his career, Giovanni is paving the way as the first in his family to graduate from college. Motivated by his journey, his younger brother and sister are now also attending college.
"Giovanni's story perfectly illustrates how UTSA is serving a critical workforce need in and beyond San Antonio," said UTSA Provost and Vice President for Academic Affairs Kimberly Andrews Espy. "Just as expected, we are seeing that many more students, particularly working professionals, are able to access and benefit from UTSA's formidable cyber security expertise."
UTSA's cyber security programs have been ranked No. 1 in the nation, and the program has been named a Center of Academic Excellence in Information Assurance/Cyber Defense Education by the National Security Agency and the Department of Homeland Security. With more than 150 students currently enrolled, the online B.B.A. in Cyber Security is offered through the UTSA College of Business and supported administratively by UTSA Online Programs in the division of Academic Innovation.
---
Interested in UTSA Online?
If you are interested in of our 100% online Cyber Security program, you can contact our enrollment team, email us at onlineenrollment@utsa.edu or give us a call at 210-458-4000.