Is Online College More Affordable than Traditional Education?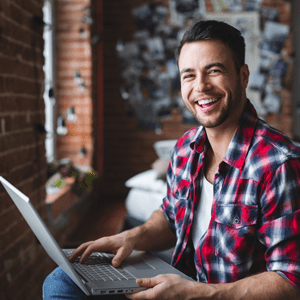 A crucial choice for prospective students when they are considering going back to school is whether to attend traditional in-person classes or to enroll in an online program. We've explored the pros and cons of online education and one of the main reasons why students choose to take online classes over traditional education is the cost of an online degree. It's not a secret that online programs can be more cost-effective, but is this really the case? Let's take a look at the cost of an online degree vs. the cost of traditional education with a review of some of the costs associated with getting an online degree. We will compare them to the costs involved when enrolling in traditional on-campus classes to help you figure out whether a traditional degree or an online degree would be the best choice for you and your future.
Online College Cost Comparison
One of the biggest advantages of getting an online degree is that you do not have to worry about paying the university fees that the majority of traditional students pay when taking on-campus classes. On top of that, when you are enrolled in online classes, you are usually able to save money in other areas such as parking passes and amenity fees. Besides the money you save on all the fees you don't have to pay, the biggest perk of taking online classes is that you can complete your degree at your own pace. This means you don't have to request time off from work or add any complications to your busy schedule. Online education is a more cost-effective option for those students who work full-time or part-time, as it allows them to continue supporting their families and maintaining their lifestyle while gaining momentum towards their degree.
In addition, online education is often more affordable than traditional education when it comes to textbooks and other course materials. Online students have access to a variety of free online resources, which can save you a lot of money in the long run. An extra saving for you when taking online classes is that you don't need to pay for housing or transportation. All of these cost factors can really add up, so let's take a look at how much you could save by obtaining an online degree instead of a traditional one.
Typical Savings for an Online Student
According to the Education Data Initiative, online degrees are $10,776 cheaper than traditional in-person degrees. The cost of tuition at UTSA Online is $450 to $525 per credit hour for undergraduate classes and $550 to $825 per credit hour for graduate classes. This tuition cost is all you have to pay. There are no additional fees and there is no out-of-state tuition, meaning that you pay the same regardless of where you live. Furthermore, UTSA Online students have numerous payment options and financial aid opportunities, which make higher education even more affordable to them.
The estimated 2022-2023 cost of on-campus attendance at UTSA is $27,752 for in-state undergraduate students enrolled full-time for both the fall and spring semesters. Here's how that cost is divided:
Tuition and Fees: $10,966 – The average cost of tuition and fees for a typical undergraduate student based on full-time or part-time enrollment. Full-time undergraduate = 30 hours per year; part-time undergraduate = 18 hours per year.
Housing and Meals: $12,934 – Actual costs may vary by individual choices related to location and circumstances.
Books and Supplies: $1,000 – The average cost of books and supplies for a typical student per academic year.
Transportation: $696 – The average transportation expenses for on-campus students are based on a VIA bus pass and two trips home per year.
Miscellaneous: $2,088 – The average expenses are calculated based on potential expenses that you may incur.
As an online student, the only expense you would need to consider, aside from what you normally spend every month, is the tuition cost of $450-$525 per credit hour for undergraduate courses and $550-$825 per credit hour for graduate courses.
Hopefully, all these comparisons will help you decide which is the most convenient option for you between the cost of an online degree vs. traditional education. If you are interested in obtaining an online degree, take some time to review all the UTSA Online programs. There are all types of options available to you, from undergraduate and graduate certificate programs to bachelor's and master's degree programs. UTSA Online has a professional team of enrollment counselors available to answer any questions you may have and to guide you throughout the entire application and enrollment process. If you believe a 100% online program is the best choice for you, connect with our enrollment counselors. You can contact them via email at onlineenrollment@utsa.edu or give them a call at 210-458-4000 if you have any questions or whenever you are ready to become a Roadrunner.
Request Information about UTSA Online Programs