Updated: October 6, 2023
Why You Should Consider Online vs. In-Person Classes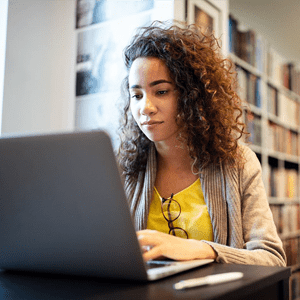 Once upon a time, there was only one way for you to obtain a college degree. That singular option was no other than sitting in a classroom, or what we call today "traditional learning." Thanks to all the great advances in technology, nowadays we are able to take classes and obtain degrees and certificates more easily from almost anywhere, as long as we have Internet access. To help you figure out which is the best option for you between the two, we will compare the pros and cons of online and in-person classes.
Whether you are planning to start a program or transfer the credit hours you have already completed to earn your degree, you can now reach your goals without worrying about having to sit in traffic after work before making it to class. UTSA Online offers academic programs taught by the same faculty, with the same rigor and the same quality of education that is offered to all UTSA students. These programs are 100% online, which gives you the flexibility to take your classes at your own pace and from wherever you are.
Online Classes Offer Learning at Any Pace
Online classes could be a great option for you if you're looking for flexibility to accommodate your busy schedule or if you don't have the resources to attend in-person classes, such as transportation. An online program is also a great option for you if you want an additional degree/certificate to advance your career but don't have enough time to commute to campus and sit through class without affecting your personal, professional, and academic life balance. The flexibility of being able to fit your online classes into your schedule, whether you're on vacation, taking care of family members, or working full time, can open up new opportunities for you to succeed.
In-Person Classes are Active and Involved
Hands-on learning is an important part of all classes offered at UTSA. Group discussions and projects help some students better understand course material while also getting to know their classmates and professors and building connections with them. This interaction and relationship-building aspect can be accomplished both in person and online at UTSA. However, if you learn best by being in a classroom, having face-to-face interactions, and being involved in clubs and organizations, then you might benefit more from in-person classes.
Online Classes Offer Flexibility
Online classes would be perfect for you if you work full-time, if you have a family and kids, if you take care of an ill loved one, or if you are experiencing any life changes that would make attending class on campus an extra complication in your life. Taking 100% online classes will allow you to advance your education at your own pace as you can organize your schedule however works best for you.
All assignments and tests are due on a weekly basis with all UTSA Online courses. This will allow you to study and retain knowledge in the best way possible while giving you the flexibility to complete your assignments at your own pace throughout that week. Whether you're a fast learner or you take your time absorbing information, the flexibility of online classes will let you take courses at a speed you feel comfortable with.
In-Person Classes Make it Harder for Distractions
For some students, taking online classes might be a little too flexible. This type of student needs a more strict schedule to follow. For that reason, online classes might leave room for too many distractions that keep them from staying focused on their class. In-person classes may be a better option for those students since classrooms create an environment that allows them to focus on the coursework. Having a set class schedule to follow might help them organize their own schedule better as well. In-person classes may work for you if education is your number one priority and if you are able to organize the rest of your responsibilities around your class times.
Online Programs are Often More Affordable
Online programs are usually less expensive than on-campus classes since online students don't need to be provided with the same type of resources as traditional students need. Taking online classes means you don't need to worry about paying any student amenity fees or about getting expensive on-campus parking passes. Although you won't be paying for those extra amenities, you'll still have excellent student support through the resources UTSA Online provides for its students.
UTSA Online's tuition is $486-$525 per credit hour for undergraduate courses and $550-$825 per credit hour for graduate courses, depending on your area of study. This cost is all-inclusive, meaning that there are no additional fees. Another benefit of enrolling in a UTSA Online program is that there is no out-of-state tuition. You'll pay the same price regardless of where you live. If you're looking to save yourself commuting time and money, then online classes may be the best choice for you.
Choosing between Online and In-Person Learning
The choice between taking an online class or sitting in a traditional classroom may not be an easy one, even after reviewing the pros and cons of both. Ultimately, it will depend on the flexibility that you need and the financial options that you have. Another important fact to consider is the time you have available for school. If you have a busy lifestyle, then an online program will allow you to obtain your degree at a pace that works with the other aspects of your life.
UTSA Online has a professional team of enrollment counselors available to help you figure out if obtaining an online degree is the best option for you. If you have any questions, you can contact them by phone at 210-458-4000 or via email at onlineenrollment@utsa.edu.
Connect with our Enrollment Counselors