Updated: October 10, 2023
Going Back to School after Many Years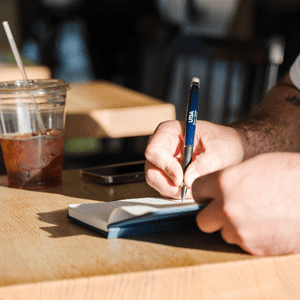 Going back to school as an adult can be a great way to further your career, earn a promotion, or simply learn something new. Whether you took some time off to start a family or pursue a career, or maybe you just never got around to finishing your degree, we want you to know that it's never too late to accomplish your educational goals.
Even just the process of figuring out how to go back to school as an adult can be very overwhelming. However, we're here to help you figure things out and accomplish your educational goals!
Tips to Return to School as an Adult
With a little planning and some solid advice, you can make the transition back into academics very smoothly. Here are our top tips on how to go back to school as an adult:
Define your goals. Why do you want to go back to school? What are you hoping to accomplish? Are you looking to earn a promotion? A raise? Are you trying to change careers? Having a clear idea of your goals will help you choose the right program and set yourself up for success. You can learn about the Value of a College Degree to help with this.
Don't judge your past experience in education. The way you did in school when you were 18 years old does not define the way things will go this time around. Technology has grown and so have you! Also, don't compare your journey and pace with anyone else's. Everyone reaches their goals at their own pace. Others might have taken a different path, so there is no need for you to compare yourself with them. All the life experience you have gained in the past years will help you succeed in our online programs. Our faculty constantly remark that Online students bring a richness and a new perspective to the classroom thanks to their abundance of experience, which traditional students normally don't have.
Do your research. There are a lot of different options out there when it comes to adult education. Check out How UTSA Online Compares to Other Online Programs in Texas. At UTSA Online, our 100% online programs are designed with asynchronous courses to fit your needs and your busy schedule. In addition to that, you'll find great networking opportunities with your faculty and classmates.
Get organized. Going back to school requires time and effort. Make sure you have a solid plan in place for managing your studies, work, and family life.
Be prepared for challenges. It's not always easy going back to school as an adult. Be prepared for bumps in the road and know that you can overcome them! Especially because our faculty is always available to help you along the way.
Seek out support. As a UTSA student, you can take advantage of several services and resources available at no additional cost, including the following:
Don't be afraid to ask for help when you need it. These resources are here to help you succeed as a student and in your career!
Programs Available at UTSA Online
Whether you're just starting to think about going back to school or you're ready to take the plunge, we hope the previous tips help put your mind at ease. With the support of faculty and the staff at UTSA Online, you can make it happen!
Here are the undergraduate, graduate, and certificate programs available at UTSA Online:
Undergraduate
Bachelor of Arts in Communication | Develop and sharpen your communication skills while you explore digital media, editing and technical writing, and intercultural and organizational communications.
Bachelor of Arts in Multidisciplinary Studies | This degree offers 10 areas of specialization: Business, Communication, Data Science, Digital Communication, Geography, Global Affairs and Political Science, Health, Humanities, Sociology, and Psychology. You can choose your own specialization to tailor your degree to your interests and career goals.
Bachelor of Business Administration in Cyber Security | UTSA Online's Cyber Security program will provide you with the necessary skills to build defensive infrastructure, protect sensitive data from external dangers, and contribute to long-term business success.
Graduate
---
Interested in UTSA Online?
Contact our Enrollment team at OnlineEnrollment@utsa.edu or call 210-458-4000.
We are here to help you take the next step in your professional career as a Roadrunner!
Explore All UTSA Online Programs