Top 4 Reasons to Enroll in UTSA Online's Digital Communication Concentration Program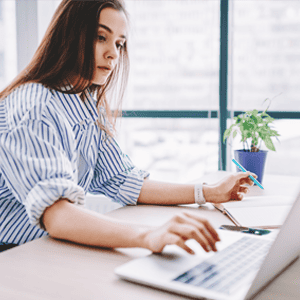 Do you get excited about the idea of communicating with audiences through social media? Do you enjoy analyzing advertisements and have an interest in creating them yourself? Then Digital Communication might be an excellent career path for you.
At UTSA Online, we offer a Bachelor of Arts degree in Communication with a Digital Communication concentration, allowing you to grow and develop skills that can be used across a wide variety of fields. A concentration in Digital Communication at UTSA enables you to explore everything from television and radio to computers and the Internet.
Our online program offers several great reasons to enroll, allowing you to build your skills without disrupting your lifestyle.
What is Digital Communication and Why is it Important?
Digital communication connects brands with audiences through platforms like TV, radio, and social media. With more businesses embracing the power of digital marketing, digital communication is one of the most popular and fastest-growing fields.
Digital communication is crucial for brands to spread their message, connect with potential customers, and encourage them to buy a product or service. Professionals in the digital communication field are responsible for developing customer interest in a brand and keeping them engaged with creative content, materials, and strategies.
According to the Bureau of Labor Statistics occupational outlook handbook, the occupation of Advertising, Promotions, and Marketing Managers is expected to grow 10% between 2021 and 2031. This growth is faster than the average for other fields, making it a great time to pursue a career in Digital Communication.
The Best Reasons to Pursue a Digital Communication Concentration at UTSA Online
For many, the growth and excitement of digital communication are enough to pursue studies in the field. However, it can be difficult to put your life on hold to venture into a new career path. Fortunately, when you pursue a Digital Communication concentration from UTSA Online, you can enjoy multiple benefits without completely upending your entire life.
1. UTSA's Accreditation Offers One of the Best Learning Experiences
The University of Texas at San Antonio is rated as one of the nation's top universities, and our accredited 100% online program is considered one of the best in the country. We were named one of the Best Online Programs in the nation by U.S. News and World Report in 2023, providing you with confidence in a quality education without having to attend in person.
You can rest assured you will receive an education that is up to par with any other in-person program. Our 100% online program does not cut any corners. Because our online instructors are full-time UTSA faculty and experts in their field, you get the same high-quality instruction as our in-person students.
2. A 100% Online Program Offers You Flexibility for Your Lifestyle
Thanks to our 100% online model, pursuing your passion doesn't have to come with sacrificing your current lifestyle. Whether you work full-time, have a family, or can't attend in-person classes, our 100% online approach will be perfect for you.
Our course formats allow you to pursue a Digital Communication concentration from the comfort of your own home and find the balance you need for success. With coursework entirely online, you can maintain a balanced schedule that allows you to keep your work, life, and education in order. Plus, our online courses are taught asynchronously, without designated meeting times, so you will be able to work at your own pace.
Our 100% online program at UTSA offers you additional benefits too, like:
All-inclusive costs without any additional fees or any on-campus amenity fees
No out-of-state tuition, meaning you can pay the same price no matter where you are
Available financial aid options for those who qualify
Altogether, an online program equips you to learn new skills and build a new career path in a way that works best for you. Our courses at UTSA Online are designed to offer high-quality instruction in an accessible manner.
3. Flexibility in Finding Your Dream Career
A Digital Communication concentration is a gateway to a wide range of potential careers, giving you tons of opportunity to find your dream role. After all, brands and businesses across virtually every industry rely on digital communications in some way. Whether it's communicating to customers on social media or reaching newer audiences through advertising, digital communication has become a necessity for many businesses.
By pursuing a degree in Communication, you will apply important skills like writing, editing, research, and presenting to effectively share information with diverse audiences. With these skills in hand, you'll be able to succeed in a variety of career fields and will be more marketable to potential employers.
The skills you learn in a Digital Communication concentration will carry you even further. UTSA Online's concentration takes you deeper by covering:
The processes of creating, producing, and distributing content in a variety of formats for digital platforms
The principles of writing and producing for various audiences using technologies and methodologies of layout and graphic design
Multimedia and video production
Theories and practices for strategic content creation for publishing digitally
These skills can be applied to many different fields and industries, which means you'll have a lot of flexibility when it's time to pursue a career. If you have a dream industry or brand you want to work with, these skills can offer great value and increase your chances of landing an exciting new role.
4. Various Careers in Digital Communications
With experience in digital communications, you have the potential to branch out into many career paths. Because the skills learned are so valuable in today's increasingly digital world, a Digital Communication concentration is anything but limiting.
Whether you prefer to work with social media, TV advertising, or across a range of platforms, a Digital Communications concentration will allow you to follow your interests and passions.
Some potential job roles you could pursue include:
Transmedia Specialist
Social Media Coordinator
Mobile Journalist
Social Media Manager
Digital Specialist
Media Content Creator
Advertising Specialist
New Media Storyteller
In the above careers, you have the opportunity to flex your communication skills and put your creativity to work. Depending on your role, you will develop communications and promotional materials like social media posts, blogs, websites, emails, and more.
The versatile skills you learn in Digital Communication courses will enable you to succeed in the above positions and beyond, giving you the capability to create engaging content that reaches a range of audiences with brand-specific messaging and the latest digital strategies.
---
Pursue a Digital Communication Concentration with UTSA Online
With the growth of the field and the range of skills you will learn, there are many reasons to pursue a concentration in Digital Communication. UTSA Online gives you the tools to pursue a concentration in a flexible way that fits your lifestyle without sacrificing the quality of the education you receive.
Learn more about a Digital Communication concentration and the associated coursework on our 100% Online Bachelor of Arts in Communication page. Start your path to a Digital Communication concentration with UTSA Online.
Contact the UTSA Online Enrollment Team at 210-458-4000 or onlineenrollment@utsa.edu.
Learn More About UTSA Online's Digital Communication Concentration