What Can I Expect from an Online Degree in Multidisciplinary Studies?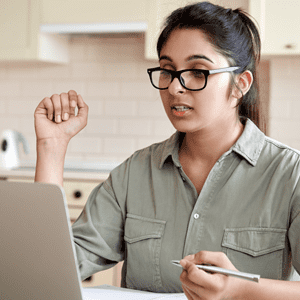 The process of figuring out the right career for you can get a little bit overwhelming sometimes. We want to help by giving you useful information about each of our programs. This time, we will be diving into our 100% Online Bachelor of Arts in Multidisciplinary Studies. To answer this question, it's important to know what the Multidisciplinary Studies program is first. A Multidisciplinary Studies degree is also considered a general studies program, as it takes multiple disciplines and brings them together to form one comprehensive curriculum. This program is designed for students who want to study various topics and fields, rather than focus on just one. This may be especially helpful for those who have already earned credit hours from another program or another institution.
What Coursework Can I Expect?
The beauty of UTSA Online's Multidisciplinary Studies program is its flexibility. As part of your online degree, you'll take coursework from three focus areas of your choosing.
UTSA Online offers six specializations for this program:
Communication | Communication skills are crucial to any industry. Whether you work in business, healthcare, government, education, or any other type of organization, the ability to clearly communicate with customers, co-workers, clients, managers, or vendors is non-negotiable. Valuable information is wasted if it can't be clearly communicated to the necessary stakeholders.
Health | With this concentration, you will learn valuable skills and information about managing public health, planning and evaluating public health programs, and understanding the needs of their community.
Data Science | All industries are experiencing a growing need for professionals skilled in collecting and understanding data that is used to help make crucial business decisions. Whether you work in the private sector, for a non-profit, or for a public business, all organizations use data to make business, staffing, and financial decisions.
Sociology | The ability to understand social life and changes in social groups and institutions is a unique skill that will be valued in any industry. With this concentration, you will study a variety of topics such as gender, race, family structures, criminology, human relationships, and more, which can help you make crucial business decisions and design programs based on human behavior.
Business | A fundamental understanding of business skills will make any candidate more valuable to their organization. The business concentration offers you the ability to study a variety of topics such as economics and accounting, legal and ethical issues, business information systems, management skills, and marketing.
Humanities | This concentration offers you an excellent foundation for any career, cultivating critical and analytical skills, communication skills, and research skills. Additionally, the program fosters liberal education and optimum use of intellect while simultaneously cultivating an appreciation of the vast scope of human creativity.
In this program, the 120-credit-hour coursework will be divided in:
Core Classes: 42 credit hours
Focus Areas: 15 credit hours (focus area 1) | 12 hours (focus area 2) | 12 hours (focus area 3)
Foundation Courses: 12 credit hours
Electives: 27 credit hours
This flexible coursework will allow you to further customize your degree to your career goals and interests.
Career Opportunities for Multidisciplinary Studies Graduates
With an Online Bachelor's Degree in Multidisciplinary Studies, you have a wide range of career options available to you, depending on your interests and the focus areas you choose. This general studies program is designed to encourage creativity, innovation, and critical thinking, while also preparing you with marketable skills that can help you successfully pursue and thrive in a wide range of careers including:
Education
Government
Management
Human Resources
Law Enforcement
Nonprofit management
In addition, many students have chosen an online degree in Multidisciplinary Studies when they want to move up in an existing career and better prepare themselves for management and leadership roles.
Why Should I Choose A Multidisciplinary Studies Degree Online from UTSA?
UTSA is a Tier One research university, and our online programs are ranked among the best in the nation. When you choose UTSA Online, you can be confident you're getting a high-quality education from a respected institution.
UTSA Online also has one of the most affordable online bachelor's programs in Texas. Online tuition is $450 per credit hour, and online students do not pay any additional fees. In addition, UTSA Online offers a number of scholarships and financial aid opportunities to help make your degree more affordable.
Most importantly, an online program allows you to take classes at your own pace, meaning that they won't impact your already busy schedule. Moreover, in this program, any eligible credit hours you previously earned may be counted towards your Multidisciplinary Studies Degree as part of your electives. This will help you complete the program faster and reach your goal of graduating earlier than expected.
If you are still not sure if an online degree is the right choice for you, we recommend you read our previous blog post: Benefits of Earning an Online Degree. On the other hand, if we have done a good job clarifying what you can expect from an online degree in Multidisciplinary Studies and you are interested in our program, you can get in touch with UTSA Online's Enrollment Team at 210-458-4000 or onlineenrollment@utsa.edu.