Why Do People Choose to Earn an Online Degree?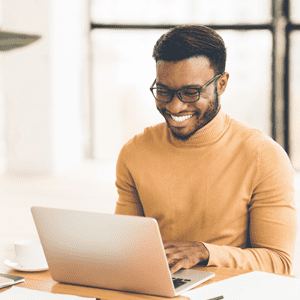 Whether you are a full-time employee, a caregiver for an ill family member, a parent, in military deployment, or you are simply experiencing any other life change that is preventing you from completing your degree on campus, online education may be the right choice for you. The last few years have been a reminder of how important it is to find a balance between our personal life, our job, and our education. Online classes give you the flexibility to take courses at your own pace, giving you the ability to accomplish your education goals while respecting your busy schedule.
Online vs. Traditional Learning
You may still be deciding between online and traditional learning. Take into consideration the different situations happening in your life. You may choose to take online classes because you don't live near a college or university that offers the program you want to pursue. Accessibility is another reason why online education has become so popular: you no longer have to rely on rigid class schedules or the inconvenience of having to find parking on campus. The same quality education is now available to you 100% online, meaning that you can take classes whenever you find it convenient.
If you work full-time or you are raising a family, you will benefit from taking classes whenever you can fit them into your busy schedule without having to miss out on anything else going on in your life. The beauty of earning an online degree is that you will learn from the same faculty, and you will accomplish your educational goals but at your own pace.
6 Benefits to Earning an Online Degree
An online degree offers you enhanced career opportunities, giving you the education and skills that you need to prepare for the job that you desire. The numerous benefits of earning an online degree include the following:
Flexibility. Regardless of how busy your day looks, you don't need to put your education on hold. Online classes can be taken anywhere.
Lower Cost. At UTSA Online, tuition rates are lower than in-person. The undergraduate tuition ranges between $450 and $525 per credit hour, and graduate tuition ranges between $450 and $825 per credit hour. No additional fees, no out-of-state tuition.
More Free Time. Being in charge of your own schedule gives you the freedom to complete your courses and assignments at your convenience, allowing you to have enough time left to relax and decompress after a busy day.
Independence. Online classes give you the autonomy to direct your own learning. There's no worrying about fitting into a specific class time or being restricted by a professor's office hours.
Career Advancement. Earning your degree online offers you the opportunity to expand your professional horizons without jeopardizing any other aspect of your life.
Improving Time Management. Many online students find that working independently to complete their assignments and stay up to date on deadlines improves their time management abilities.
Degrees You Can Earn with UTSA Online
UTSA Online offers a variety of degrees and certificates to help you achieve your career goals at your own pace with the same rigor, same faculty, and same quality education as the one provided to UTSA students on-campus.
Undergraduate
Graduate
Master of Science in Facility Management | With this master's degree you will become a fully-qualified facility manager with skills in management, operations, and leadership in a 30 credit hour program.
Data Science Graduate Certificate | This certificate program is designed for students who have a bachelor's degree in any discipline, and it includes fundamental knowledge for those without a programming or data science background.
Facility Management Graduate Certificate | With this certificate program you will be prepared to support and advance the facilities management profession, as you will gain skills and knowledge in management, operations, and leadership. This program is considered stackable, which means all credit hours earned from it can transfer into the MS in Facility Management program.
If you are ready to take the next steps, get in touch with our team of enrollment counselors and get all your questions answered. They will be there to assist you on every step of the application and enrollment process.
Take the Next Step Toward a Lucrative Career